The Legacy Guild Raised over $80K to Fund College Scholarships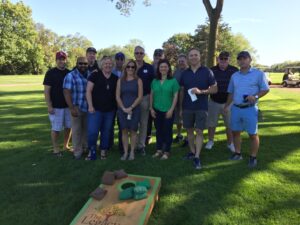 The Legacy Guild announced today that it raised more than $80,000 at its September 26 fundraising event to fund college scholarships to students living in Lyons Township District 204 who have lost a parent. This is net dollars which goes directly toward providing scholarships.
In addition to scramble golf and a bags tournament, this year a tennis drills clinic was added. The event, in its' eighth year, was held on September 26, 2019 at the La Grange Country Club. Over 150 people participated in the event which also included a reception and dinner. A surviving parent of one of the scholar recipients spoke at the event sharing her family's personal story and appreciation for the organization.
"In addition to raising money for local students, this event is a wonderful way for people in our community to connect and bond together for a good cause," commented Bill Carney, Legacy Guild President. He added, "We host two major fundraisers each year and are so appreciative by the generous support of those in our area."
The Legacy Guild has now provided over $890,000 in college scholarship awards to 140+ students since its inception in 2012.
The Legacy Guild will host a "Spring" Fundraiser on Saturday, February 29, 2020. Ticket and sponsorship information will be available in mid-December on their website.