The Legacy Guild raises over $85K for college scholarships for local students at Fall fundraisers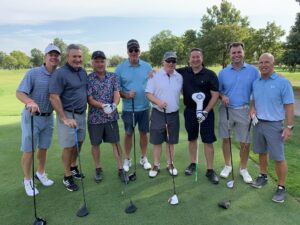 (Western Springs, IL) – The Legacy Guild, a local nonprofit, recently raised over $85,000 net at its Fall Fundraiser events held on September 30 to benefit area students who have lost a parent.  In June, the organization distributed $185,625 in college scholarships to 76 students living in the Lyons Township District 204 community.  Founded in 2012, the local charity has distributed nearly $1.3 million in college scholarships and provided mentoring to area students.
New Board President Ryan Williamson of La Grange said, "In addition to our annual golf outing, we also held an evening fundraiser to gather together with our supporters, honor some, and enjoy a fun event while raising additional money for our Scholars."
The 10th annual golf outing was held at the La Grange Country Club where 124 golfers played in a classic 4-person scramble format with a shot-gun start.  Golfers enjoyed lunch served by Monks Burgers and More before they participated in the traditional golf cart parade to their holes.  Congratulations to the team of Kevin Purcell, Emmett Purcell, Sean Purcell and Matt Ulmer for lowest team score.  Congrats to Kolin McCarter for winning closest to the pin. The longest drive was won by Mike Budde.  All winners received gift certificates in addition to the Legacy Guild golf umbrellas given to all golfers.
Russ Riberto, new VP of the Legacy Guild board said, "We continue to be humbled by the generosity of our sponsors and donors, both old and new.  We serve all students in the District 204 area and are so grateful by the support of so many in our community"
Click here to view our top event sponsors.  All sponsors were acknowledged at both events and had signs displayed at the various holes on the course and included in our program, posters, and video board during the evening event.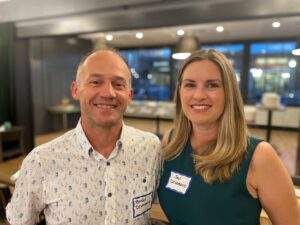 The evening event fundraiser was held at The Elm in downtown La Grange.  The entire first floor was reserved and over 125 guests enjoyed drinks, a delicious buffet dinner and the music of Donny G and the Hat.  We were honored for one of our Scholar parents, Cordelia Coppleson, to share her story and the positive impact that our organization has had on her family.
In addition, during the evening event two awards were given:
Joan Smothers (Smothers Group with Compass) was presented with the Community Champion Award for her dedication to improving the Lyons Township Community through her generous support of local charitable organizations.
Tom Cushing was presented with the Bill Purcell Spirit of the Legacy Guild Award. Tom, a founding board member (and former president) has tirelessly volunteered on behalf of our organization and truly lives out our mission.
To learn more about The Legacy Guild or its upcoming events or to make a donation, visit
www.TheLegacyGuild.com
.